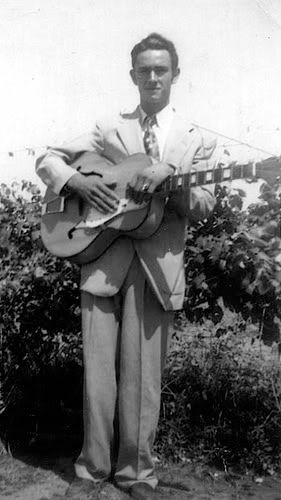 Al Urban, Gonzales, Tx. (1953)
Rockabilly artist, recording for the Sarg label, TX
via
genuinerhythm
In 1957 he cut this here tune Lookin' For Money.Mr. Urban totally cut 3 singles for Sarg label. Sarg Records was founded by Charlie Fitch, based in Luling, Texas. The absolutely first recordings of Willie Nelson and Doug Sahm were issued at Sarg. Link Davis, Floyd Tillman, and more pretty unknown rockabillies roared into the mics at the Sarg label from Luling TX, as well. By the way, i think it's Hal Harris playin' lead on this track.


Al Urban was born on a farm in Gonzales, Texas, on March 1, 1935. He began playing the guitar in his mid-teens and formed his first band, The Daybreakers, in the early fifties and obtained a regular gig at the popular Log Cabin Inn north of Luling. In 1956, Urban recorded his original songs Lookin' For Money and I Don't Want To Be Alone at Gold Star Studio in Houston. Al sent the master Tape to Charlie Fitch who agreed to release it on Sarg Records. The record debuted on November 30, 1956 receiving rave reviews from Billboard magazine. It was a modest hit and sold respectably. Urban was invited to appear on the Louisiana Hayride on the strength of the single. He was a prolific songwriter often returning to Bill Quinn's Gold Star Studio on his own dime to record his compositions. George Jones was using the same studio during the same period and the two often shared the same backing band. Charlie Fitch released four more Urban records and passed on several others. Disgruntled with Fitch, Urban started his own label, Fang to promote his releases, and eventually recorded for several other small labels as well, including Kash and Tennessee. He continued to be an active performer, but tiring of the nightly grind; he began concentrating more on songwriting. His windfall came in 1971 when Charley Pride recorded several of his songs including the hit ,I'm Beginning to Believe My Own Lies that was included on the Grammy award winning album Charley Pride Sings Heart Songs.
Sources and Acknowledgments
Brown, Andrew. The Sarg Records Anthology. Book Accompaniment to CD Box Set: Bear Family Records. 1999
From
I Just Dropped In To Say Goodbye
http://www.cdbaby.com/cd/alurban
Genre:
Country: Traditional Country
I Just Dropped In To Say Goodbye
Al Urban
© Copyright-I Just Dropped In To Say Goodbye
(634479959677)
Record Label: Al Urban
Singer, entertainer and recording artist Al Urban has sung his way through many years of changing country & western styles-from traditional to rock a billy and from swing to contemporary. In "i just dropped by to say goodbye" he treats his fans to vintage Urban - a return to the traditional roots of country songs. No body can write or sing a country song quite like Al. This CD contains eleven examples of his distinctive style and ability to put the many sides of love into haunting melodies. His golden baritone caresses the lyrics of each perfectly crafted story line and captivates you throughout the musical journey. This is a "must have" collection.
Alvin Urban, 1935-2012
URBAN
Alvin Urban, was born on March 01, 1935 in Gonzales, TX to the late Mr. Peter Paul Urban and Mrs. Beatrice Shelton-Urban. Al Urban passed away in Seguin, TX Wednesday, January 18, 2012 at the prime age of 76.
Al was a member of the East Side Baptist Church of Gonzales. He was a wonderful father, grandfather, uncle, and friend to all who knew him. He resided in Gonzales, TX with his family he will be greatly missed. Al was specially known for his love of music he was a local singer and song writer. He is preceded in death by his parents and is survived by his only daughter Sherian and husband Mike Cleveland of Gonzales, TX; one brother George Urban of Victoria, TX and two grandchildren Jonathon and Eric Cleveland.
Visitation for family and friends held at the Buffington Funeral Home Chapel on Saturday, January 21, 2012 from 11:00 AM to 9:00 PM. Funeral Services held for 2:00 P.M Sunday, January 22, 2012 at the Buffington Funeral Home Chapel officiated by Reverend Hollas Hoffman. Internment followed at the local Gonzales City Cemetery. Pallbearers: Paul Elder, Kenneth Stewart, Daniel Stewart, Marshall Davis, Danny Sloan, Freddy Fisher, Gary Schroeder and Mike Dossey. Any condolences or words of comfort for the Urban family can be left online atwww.buffingtonfuneralhomegonzales.com. Arrangements made by Buffington Funeral Home, 424 St. Peter Gonzales, TX 78629; 830-672-3322.
RIP - Al Urban
The Book Of Fools
AL URBAN - Single Kash 104
Side A - I'm Just The Mirror (That Hangs Behind The Bar)
SideB - The Book Of Fools
*****
_
Courtesy of "Imperial"